Yanzi moves raw and analyzed data between devices and cloud so that our partners can focus on building great products.
Yanzi handles device management including signed firmware upgrade, automatic security key management, certificate rollover, energy management, global wireless certifications and more — so that you don't have to. Talking to thousands of devices is inherently tricky, but we make it as easy as using a regular web API. We sell our own sensors using our software, but also allow partners to connect to our infrastructure.
Simple
Setting up and maintaining a Yanzi system is plug and play, thanks to our easy to use management tools. We fully support the entire lifecycle, from planning to deinstall.
Scalable
Yanzi supports 1 to 50 000+ sensors per site, in both high and low density configurations. Yanzi utilizes global technology standards and a cloud agnostic distributed solution that enables fast global reach.
Secure
Yanzi utilises strong and FIPS-140 compliant cryptography both in the cloud and between devices - even for low-cost low-power devices at the edge. All while maintaining ease of use.
120 000 000 +
DATA POINTS PER DAY
Scalable and Secure
Cirrus API is a secure open API supporting multiple simultaneous subscribers.
Data model allow access to any data originating from any location with a uniform interface without the need to understand the sensor details.
Communication is based on JSON objects over web socket over an authenticated and encrypted SSL connection that provides broad support and understanding in the industry.
Hot and cold data paths
Hot path (live data) supported by Publish/Subscribe mechanism to simplify integration to 3rd party IoT frameworks.
Cold path (historical data) supported by Request/Response mechanism to enable recovery of data after loss of connectivity.
Legacy Support
Protocol adapters available for standard message brokers such as MQTT, IBM Watson IoT Platform, IBM MessageSight, and Microsoft IoT Hub to simplify integration with IBM and Microsoft platforms.
Cloud Agnostic
Yanzi Cirrus Cloud supports deployment in Microsoft Azure, Google Cloud, Amazon, and IBM Bluemix. Based on Docker containers managed with Kubernetes.
Real-time Event Driven Solution
Low latency, typically 250 ms both ways, allows for real-time applications.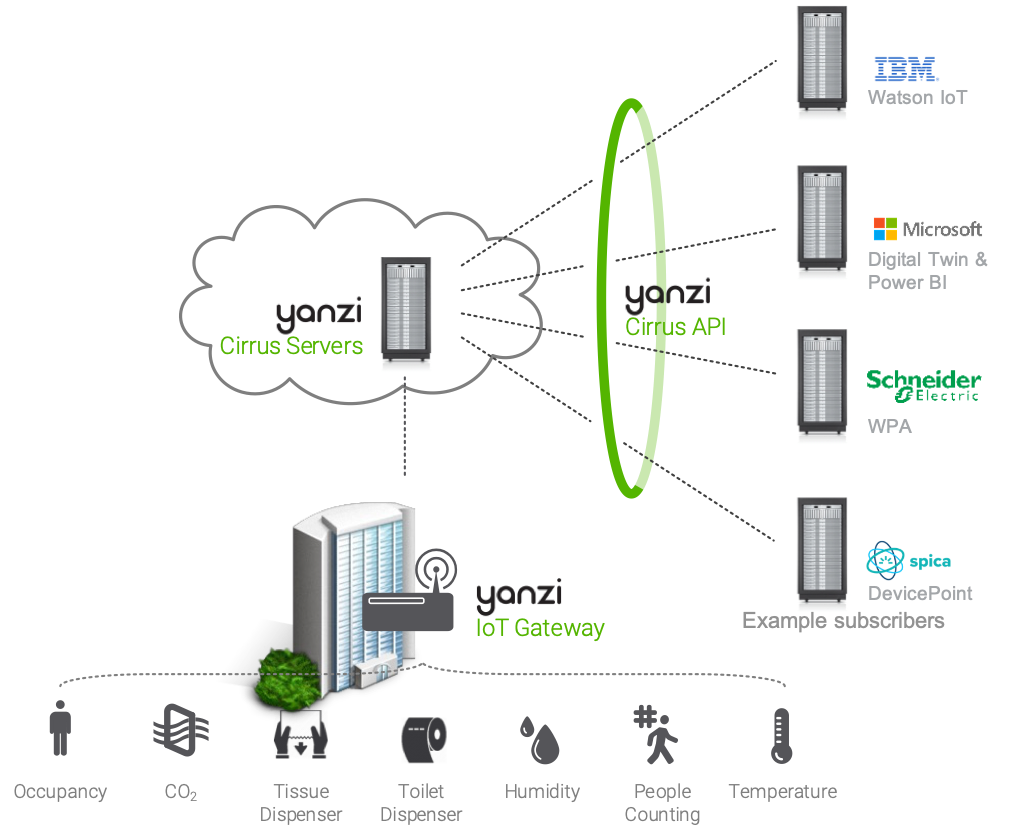 Yanzi scales the product offering by providing sensor vendors with a fully automatic, scalable, and secure way to connect to the Cloud
Yanzi Stamp firmware is supported on multiple vendor's chips such as Silicon Labs, Texas Instruments, and ST Microelectronics
Selected features included in firmware
Automatic network channel selection
Automatic discovery
Automatic security setup, AES-128 and private/public key ECC
Automatic Over-the-Air upgrade
IPv6 mesh networking
Routing based on IETF RPL
Dual boot with image checksum verification
Bluetooth beacon capability
Sleep capability with 10+ year battery life
Optimized retransmission in noisy environments with Forward Protection
Compressed communication protocol
Device drivers for standard sensors
Self healing network
Data buffering (in design phase)
Support for global radio protocols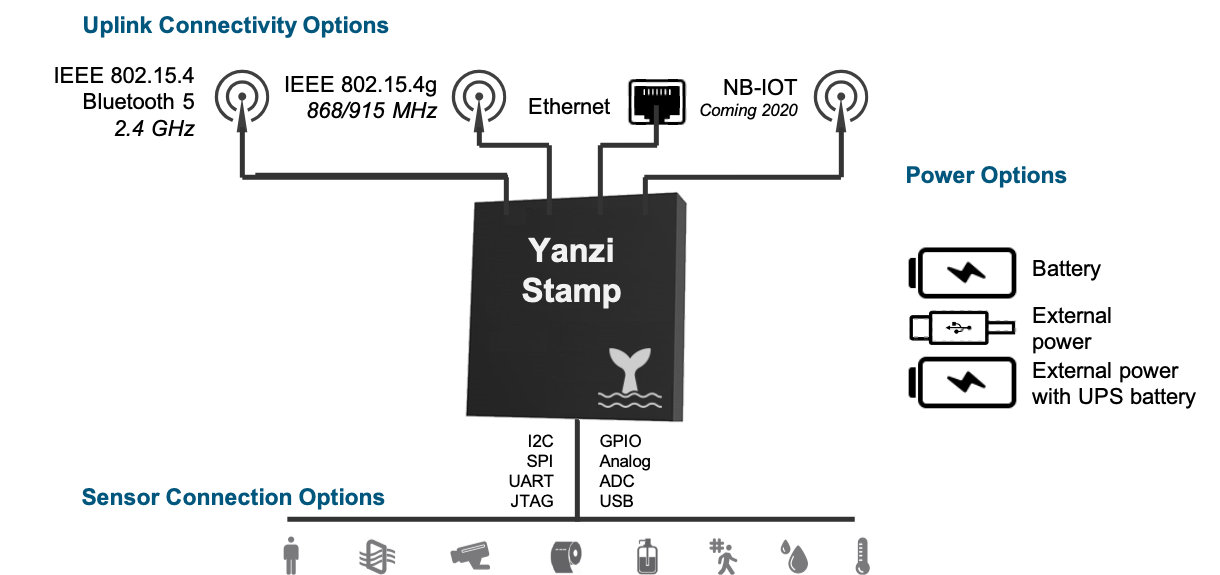 Simple
Plan
Web based lifecycle tool guides customers from planning to install to maintain.
Click and place interface intuitively configures the system to deliver the desired data.
Integrate
Open API based on JSON over Websockets with strong typing.
3rd party device integration using Yanzi Stamp
Install
No pre-configuration of sensors required. 
Super simple install – Click, Scan, and Tape.
Typical 1-2 minutes per sensor.
Zero-configuration ontology is transparently created.
Maintain
Full NOC via Cirrus API.
Automatic error detection.
Automated software and firmware upgrades.
Automatic configuration updates and integrated change management tooling.
Automatic creation of digital twin
Install creates fully featured building ontology with digital twins for all relevant spaces.
Fully automatic - no configuration required.
Integration with building model providers.
Scalable
Installation Scalability
Supports installations of 50,000+ sensors per building
Network Usage Scalability
Supporting low density installation cost efficiently and high density installations technically (1-1,000 devices / 1,000m2)
Devices Scalability
Connecting low power devices (temperature sensors) as well as high performance devices (video cameras)
Region Scalability
Utilizing global standards enables fast global reach
(IEEE / IETF / IPv6 / ECC / AES)
Cloud Scalability
Leverage from Global Cloud providers and standardized technologies (Kubernetes)
Secure
Cloud API
Certificate based Cloud-to-Cloud connection
Automatic key management for multi-location to enable device roaming
Data encryption in transport and at rest
Encrypted backups of configuration data
Gateway
Certificate based Gateway-to-Cloud connection
Automatic key management for devices
Signed binaries for remote upgrade
Devices
Dual layer encryption
Unique application layer encryption keys per device
(automatic, not pre-configured)
Fully Automatic Provisioning of Devices Enables Fast and Secure Scaling
Automatic Radio Channel Selection
Radio channels are automatically selected by the Gateways based on environmental parameters, such as noise levels, and regional requirements. Sensors then automatically select the Gateway with the best radio channel for that area in the building. Sensors can still roam in case a "better" paths to other Gateways appears.
Automatic Network Address
All devices on a network are required to have a unique address in order to avoid communication collisions on the network. Yanzi uses fully automatic and standardized IPv6 addressing setup while older systems typically use manually configured addresses.
Automatic Discovery
Once a device has been attached to a network, there is a process to discover other devices. UPnP is a standardized protocol to, for example, find a printer from a computer and Yanzi IoT devices use the same technique. The Gateway automatically discovers devices on the network and peers them if requested.
Automatic Over-the-Air Upgrade
New software and firmware releases are automatically pushed from the cloud out to all sensors
Automatic Introspection
Once a device has been discovered, the Gateway must figure out the capabilities and data endpoints of the device in order to know which device drivers to run and how to configure the device. This is done using a hierarchical introspection scheme that allows for new devices to be deployed without any need for new Gateway software.
Automatic Security Setup
Security must be enterprise grade to minimize attack surface and fully automated to allow fast roll-out of IoT devices. Yanzi uses authenticated links and automatic key management based on public-key cryptography, specifically elliptic curve cryptography, ECC. Devices use dual layer encryption with a unique AES encryption key per device.
All IP solution
Internet Protocol (IP) is the unifying abstraction that allow layering of diverse applications on top of diverse communication media. It allows for intermediate equipment, such as switches and access points, to forward packets without the knowledge of encryption keys or device information. Other protocols such as Zigbee, Bluetooth, and Modbus requires intermediate equipment to have full knowledge of the end-to-end application.